At Kent and Medway Medical School (KMMS), we are committed to inspiring future healthcare professionals by raising aspirations, supporting young people's choices and encouraging progression into medicine or health related careers. We want to encourage aspiring doctors from all backgrounds to seriously consider medicine as a career. We are committed to widening access to medical degrees and have ambitious targets to recruit students from Kent, Medway and further afield, who have the talent and desire to study medicine, and are from under-represented groups or disadvantaged backgrounds. To further enhance our Future Doctors Outreach Programme, KMMS works in collaboration with our partner institutions, Canterbury Christ Church University and University of Kent.
---
Welcome Wednesday
The Admissions Team is live on Instagram (@kmmsmedschool) stories every Wednesday between 12:00-14:00 to answer any questions you have
.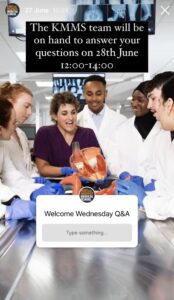 ---
Our Future Doctors offer:
Our Future Doctors programme is designed to make young people aware of the potential careers in medicine and healthcare, and encouraging them to explore their options and make informed choices about their future.
If you are a Science or Careers Teacher, we welcome you to join our mailing list to hear about our upcoming events that may be of interest to your students. If you would like to ask a specific question about our offer, please email futuredoctors@kmms.ac.uk.
Future Doctors:  School Visits Programme (Year 7 – 13)
The KMMS Future Doctors team are delighted to visit local secondary schools to talk about careers in medicine and the application process for medical school. We hope to inspire students to study medicine who may not have otherwise considered it as an option as well as to support them to make the right GCSE and A-level choices to allow them to pursue their ambitions.
In line with our widening participation mission we prioritise visits to Canterbury Christ Church University Partner Schools and University of Kent Partner Schools.
To find out more about our visits and invite us to your school please email futuredoctors@kmms.ac.uk
Through the excellent and informative outreach work from KMMS we now have students who are very excited about medicine and understand their next steps

Tim Fox, Senior Vice Principal & Head of Academic College, The Canterbury Academy

Future Doctors:  Virtual Medical Society (Year 9 – 11)
Want to ignite your passion for Medicine? Don't miss the chance to enrol onto our FREE Future Doctors Virtual Medical Society programme?
We offer Year 9, 10 and 11 students the opportunity to join our Future Doctors: Virtual Medical Society programme.
This innovative programme aims to increase awareness of what it takes to apply to and study medicine or other healthcare subjects, through fun, inspiring and interactive sessions focused on medicine, health, and science.
The programme includes an in-person launch and graduation wrapped round a series of online sessions that are based on the KMMS curriculum and go through topics such as Heart, Lung and Blood; Health and Disease; Neuroscience and Behaviour; Immune System; and many more. The sessions will be run by NHS clinicians supported by our medical students and help embed and bring to life the attendees' GCSE science curriculum.
You will have an opportunity to meet others interested in Medicine, join our online community and learn with real doctors!
I love these sessions and they have taught me things I would not have  learned in class

-Year 9 student

---

"This is a brilliant, unique opportunity for my daughter. She was so enthused and encouraged after her first session. Her dream to be a doctor now seems like a real possibility.Thank you."

-Mother of participant