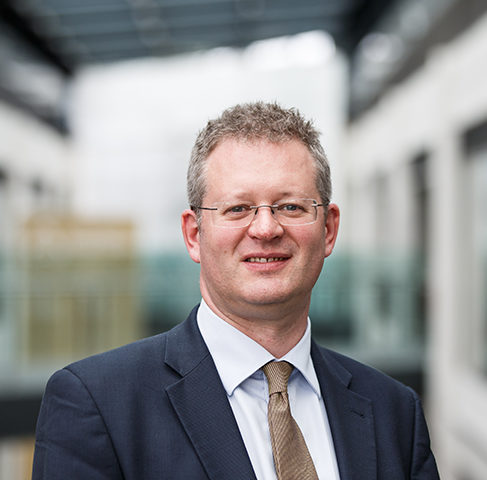 Professor Chris Holland
Founding Dean, Kent and Medway Medical School
About
Professor Chris Holland is the Founding Dean of Kent and Medway Medical School. He has an extensive career in medicine and medical education, working with the national education bodies, the General Medical Council and Local Enterprise Partnerships.
He was awarded his Bachelor of Medicine, Bachelor of Surgery from Queen's University Belfast in 1997 and went on to gain a Master's Degree in Medical Education from the University of Warwick. He is currently completing a Doctorate in Education at King's College London.
He is a Fellow of the Royal College of Anaesthetists, the Faculty of Intensive Care, and the Academy of Medical Educators. He was an elected member of the National Council of the Academy of Medical Educators and led the Academy's Equality and Diversity Group.
Professor Holland joined KMMS from the University of Surrey where he was a Professorial Teaching Fellow and Director of Learning and Teaching for Medicine, responsible for learning and teaching and student experience for Medicine at the University.
He works as a Consultant in General Adult Intensive Care Medicine at Maidstone and Tunbridge Wells NHS Trust.
"Setting up a new medical school for Kent and Medway is a once in a lifetime opportunity to make a difference and create something unique which will prepare a new generation of medical graduates for the NHS of the 21st Century."
Research interests
Chris is currently writing a Doctoral thesis on Leadership in Education.
He has previously researched student motivation after failure, simulation training, interprofessional education and the experiences of medical students from background less well represented in medicine during their time at university.
Teaching
Chris is comfortable teaching all students using methods ranging from large teacher-centred lectures to small-group dynamic interactions to high-fidelity simulation and subsequent debriefing discussions. Feedback and appraisal from his students and mentors have been consistently excellent. Chris maintains a current portfolio of his teaching activities and his practice has been evaluated as excellent in a 360-degree appraisal process for Educational Supervisors run by the London Deanery.
Chris is a passionate advocate of faculty development and believes that this activity contributes to the general improvement of the experience for all learners, particularly those in healthcare disciplines and professions.
Chris has been closely involved with the commissioning and design of several courses for healthcare professionals, for example the King's Intermediate Trauma and Life Support course. This has now been funded by the London Deanery and the London Trauma Office to enable it to be further developed as a pan-London course targeting teaching in team-membership and interprofessional working in trauma. While he was an Anaesthetic trainee, together with Dr Colm Lanigan (Consultant Anaesthetist at University Hospital Lewisham), he co-created the South-East Thames Novice Anaesthetists and Novice Intensive Care Medicine courses. These courses have been adopted by various clinical departments as the mandatory induction programme for all junior doctors who come to work with there.
Professional
1. Eiben I., Eiben P., Watson K. 'Crash Course in General Medicine.' Ed: Holland C.; Elsevier, London, UK 2018 (5th Edition)
2. Holland C, 'Critical review: medical students' motivation after failure.' Adv Health Sci Educ Theory Pract. 2015 Oct 6. http://dx.doi.org/10.1007/s10459-015-9643-8
3. Holland C., Bench S., Bradley C., Brown K., Frisby J. and Johnson L. 'Interprofessional Working in Acute Care. The Clinical Teacher,' 2013 Apr;10(2):107-12 http://dx.doi.org/ 10.1111/tct.12002
*The most downloaded article from Clinical Teacher Website in 2013
Last updated June 5, 2023