What qualifications do I need?
To study at KMMS, you must possess the abilities, commitment and personal qualities that are necessary to deliver the core NHS values and become an excellent doctor.
KMMS welcomes applicants from all backgrounds who have the potential to become good doctors, and serve the National Health Service. KMMS has pioneered ideas in selection, and our policies and procedures are different to most UK medical schools.
When selecting our students, we look for:
A resilient all-rounder who can demonstrate a range of skills and attributes
High academic achievement, particularly relative to their school background
Commitment to quality of care and improvement
An understanding of NHS core values and the ability to put those values in action
Compassion, and the ability to treat all people with respect and dignity
Communication skills and effective team working
Appreciation of other people's views and willingness to accept responsibility
A realistic and committed understanding of medical training and clinical practice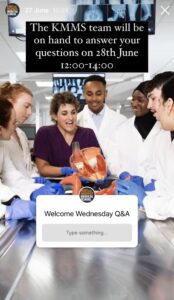 Every Wednesday*, the KMMS Admissions Team will host an Instagram Live Q&A session at @kmmsmedschool. This is a great opportunity to pose your questions and get real-time answers.
*not including public holidays
* Disclaimer: This information is for indicative guidance only. KMMS is a new medical school and the BM BS programme is subject to successful progress through the General Medical Council's quality assurance programme.